Invoicing
Invoicing
The sub process describes the requirements, recommendations and guidelines STAND has, which may be relevant for settlement for deliveries to a customer, regardless of the method of distribution.
The process is based on the fact that all documentation is exchanged by EDI.
This sub process consists of the following activities:
Send invoice
Receive invoice and send invoice receipt
Receive invoice receipt
Areas affected by, and subject to guidelines from STAND are:
How EDI is used in the retail trade in general and in the invoicing process in particular
Requirements and content of EDI messages for
EDI exchange agreement
Generic description of settlement process
Use of EDI in the retail trade
EDI – Electronic Data Interchange – is used in the retail industry to exchange commercial documents like Order, Order Receipt, Order Confirmation, Despatch Advice, Invoice and Invoice Receipt.
EDI can be performed in various ways, from fully automated processes both at customer and supplier, to web solutions where information is registered manually.
EDI is used for all distribution types.
Overview of EDI messages and in which processes they are used

Which EDI messages to use will vary with the distribution type.
An overview of this, along with deadlines for when the messages are to be sent, are described in EDI message, type of distribution and deadlines.
Before using EDI, it is necessary to clarify which messages to be used, message formats, exchange methods, electronic message addresses, etc. This documented the EDI Exchange agreement.
This document also specifies other bilateral issues related to the exchange of EDI messages.
To ensure that both parties and all business functions are familiar with all bilateral agreements, it is crucial that the EDI Exchange Agreement is used actively.
How to get started with EDI is described in Implement EDI in the retail trade.
In order to start using EDI, trading documents must be translated into an EDI format.
The following formats are available:
Revisions of the EDI formats, is documented in Change log current version vs. past versions
Send and receive invoice and invoice receipt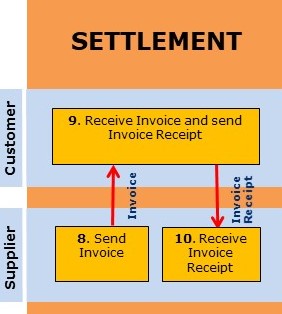 Send invoice
Based on the products and quantity delivered, as well as other terms of sale and delivery, the supplier produces an invoice and sends to the customer / invoice recipient.
Invoice must be sent by EDI unless otherwise agreed bilaterally.
One invoice shall only include delivery from one Despatch Advice.
At delivery terms Ex Works, one invoice will only deal with products delivered from one warehouse.
If credit note is sent, one credit note should only refer to one invoice.
Invoice must be continuously numbered, state the place of delivery, the invoice date and the name and address of the supplier and buyer. The invoice shall provide information about the product's name, quantity and price, as well as tax and fees.
Receive invoice and send invoice receipt
If the supplier desires / needs it, it can be agreed bilaterally that the customer will send an invoice receipt to the supplier as confirmation that the customer has received an invoice.
Invoice receipt shall be sent by EDI unless otherwise agreed bilaterally.
The invoice receipt is available in two versions; simple and advanced invoice receipt. Difference is the degree of detail on content. Which version used must be bilaterally agreed.
The following content may be included:
Code that shows how the customer has processed an invoice

Received and controlled
Received but not checked
Not accepted

Error code, which shows what is wrong if the customer has entered the code = Not accepted:

Incorrect invoice amount in relation to invoice documentation
Invoice received earlier
GLN error in the buyer's address field
No EDI agreement between the parties
One invoice receipt must cover only one invoice.
Invoice receipt can also be sent upon receipt of a credit note. Same rules as for invoice apply.
Receive invoice receipt
How the invoice receipt is used by the vendor in their internal systems is not covered by the STAND Guidelines.