Requirements for approved EUR-pallets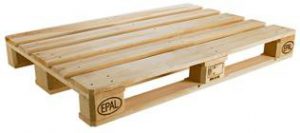 Facts
Materials

11 tables in high quality wood
9 wood fibre or solid wood blocks
78 nails

Length 1200 mm (tolerance limit +8 / -5 mm)
Width 800 mm (tolerance limit +8 / -5 x mm)
Height 144 mm (tolerance limit +10 / -0 x mm)
Tunnel height (light opening between top and bottom board) 100mm (tolerance +4/0 mm)
Weight approx. 25 kg
Workload 1500 kg with constant load on the entire pallet
The top boards shall have a thickness of 22 to 25 mm
The bottom boards shall have a thickness of 22 to 24 mm and must be slanted
EUR-pallets shall only be manufactured, repaired and marked by approved companies
EUR-pallets shall be manufactured in accordance with requirements of UIC Code 435-2
Repair should be done in accordance with requirements of UIC Code 435-4
Nail pattern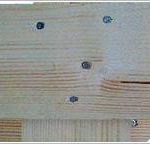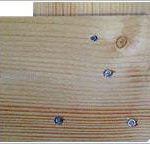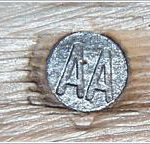 Marking:
Left block                               Centre block                  Right block (2 options)


The EPAL brand may be replaced by the mark of European railway companies.

Unapproved pallets:
If there are one or more defects on the pallet, as shown below, the pallet is not approved.
The pallet must be repaired according to UIC code 435-4.
---
An upper or lower board is damaged so that more than one nail or screw is visible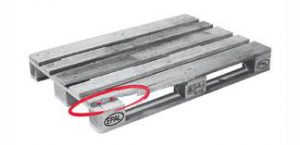 ---
A board is missing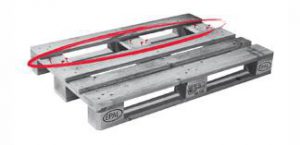 ---
A block is missing or broken so that more than one nail is visible
A block cannot be twisted more than 10mm protruding.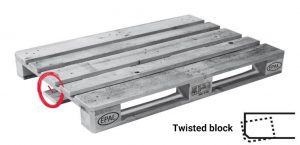 ---
A board is broken across or diagonally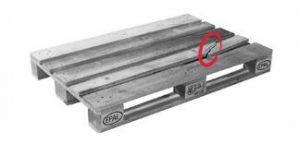 ---
More than two outer boards are damaged, and more than one nail or screw is visible on each board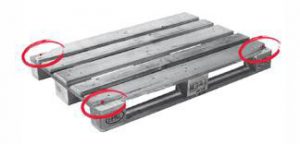 ---
Other requirements (Bad general condition):
Load capacity can no longer be guaranteed (worm-eaten or rotten)
Polluted so that products can be damaged
Large chips from several of the bricks
Evidently, unapproved materials used for repair, such as boards or blocks of inferior quality
ISPM No. 15
ISPM No. 15 is an international standard for treating and marking of wood packaging used in international trade. The standard specifies requirements for heat treatment or gasification of the wood or the wood packaging itself with methyl bromide to kill wood pestilators and that this is documented by the marking of the wooden packaging
The standard also sets requirements for barking of the wood.
Wooden packaging that crosses the EU's outer borders should be marked with this symbol. Wood packaging produced and used in Norway is exempt treatment and marking.
More information on Mattilsynet's website:
http://www.mattilsynet.no/planter_og_dyrking/tommer_trelast_og_treemballasje/treemballasje/internasjonal_standard_for_treemballasje__ispm_nr_15.8473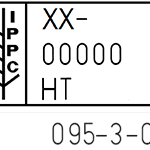 IPPC symbol, country code, registration number, HT (for heat treated), license number-year-month
ISPM 15 treated pallets shall be marked on the center blocks on the long sides
ISPM 15 markings can also be marked on the center blocks on the short sides
Published on: 31. July 2018