Send and receive invoice and invoice receipt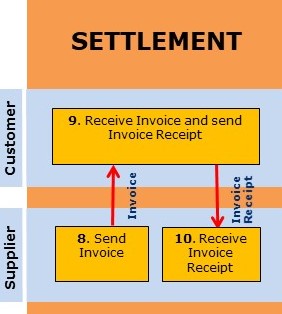 Send invoice
Based on the products and quantity delivered, as well as other terms of sale and delivery, the supplier produces an invoice and sends to the customer / invoice recipient.
Invoice must be sent by EDI unless otherwise agreed bilaterally.
One invoice shall only include delivery from one Despatch Advice.
At delivery terms Ex Works, one invoice will only deal with products delivered from one warehouse.
If credit note is sent, one credit note should only refer to one invoice.
Invoice must be continuously numbered, state the place of delivery, the invoice date and the name and address of the supplier and buyer. The invoice shall provide information about the product's name, quantity and price, as well as tax and fees.
Receive invoice and send invoice receipt
If the supplier desires / needs it, it can be agreed bilaterally that the customer will send an invoice receipt to the supplier as confirmation that the customer has received an invoice.
Invoice receipt shall be sent by EDI unless otherwise agreed bilaterally.
The invoice receipt is available in two versions; simple and advanced invoice receipt. Difference is the degree of detail on content. Which version used must be bilaterally agreed.
The following content may be included:
Code that shows how the customer has processed an invoice

Received and controlled
Received but not checked
Not accepted

Error code, which shows what is wrong if the customer has entered the code = Not accepted:

Incorrect invoice amount in relation to invoice documentation
Invoice received earlier
GLN error in the buyer's address field
No EDI agreement between the parties
One invoice receipt must cover only one invoice.
Invoice receipt can also be sent upon receipt of a credit note. Same rules as for invoice apply.
Receive invoice receipt
How the invoice receipt is used by the vendor in their internal systems is not covered by the STAND Guidelines.
Published on: 15. August 2018