Guidelines for labels on Distribution Units (DU)
Placement of labels on pallet
Two types of labels shall be used; label for product information and label for transport information.
The minimum requirement is that the pallet should be labelled on two sides with both label types; one of the short sides of the pallet and the right hand long side (seen from the short side).
Product and transport label must be on the same side of the pallet.
When multiple labels are used on the same side of the pallet, the labels should be placed underneath each other. The label that contains SSCC placed at the bottom.
The labels should be placed so that the bottom of the lowest bar code should be at least 400 mm above the floor, and the top of the uppermost bar code should not be more than 800 mm above the floor.
The label should be placed at least 50 mm from the vertical edge.
For pallets lower than 400 mm the labels should be placed as high as possible.
If all information is known at the time the pallet is labelled and there is space on the label, all information can be labelled on one single label.
To ensure automatic reading of the bar codes Promotional Units, Customer packed pallet and Mixed pallet should only the transport label on the transport unit be readable
Product label on Standard pallet with height 60 cm (Standard pallet – Low) should be placed as high as possible.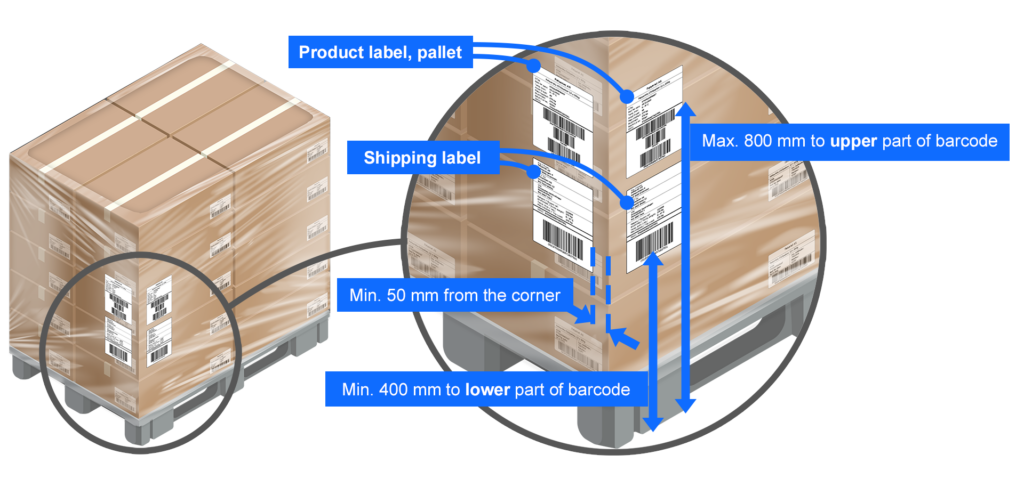 Identical information
Same information (GS1-128 AI) shall only appear once on the product and transport label.
This means in practice that the same information can not be repeated on the same label or that the same information may appear on multiple labels on the device (pallet).
The exception is SSCC which is allowed on both labels if it is an identical number used.
Size and design of the labels
The following recommendation applies:
The width of the label should be 105 mm or 148 mm
The height of the label may vary
Recommended formats are:
A5 (148mm x 210mm)
A6 (105mm x 148mm)
105 mm x 192 mm
Quality of labels
It is a prerequisite that the labels are readable throughout the value chain for the entire life span of the unit
It is a requirement that the quality of GS1-128 bar codes minimum meets print quality with "Grade C" according to Standard ISO / IEC 15416.
To achieve "Grade C" when reading, "Grade B" or better by printing is recommended
When affixing the labels, it is important to ensure that the bars in the GS1-128 symbol are correct and unbroken (avoid "wrinkling" on the label).
Published on: 2. August 2018